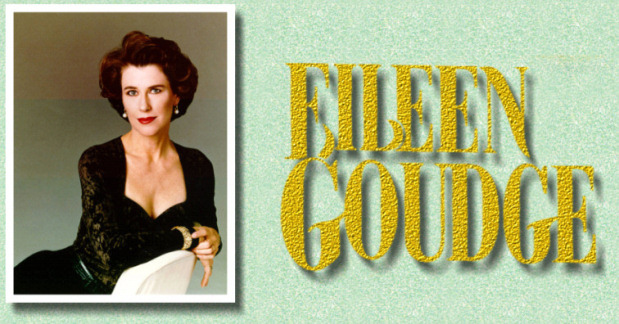 ---
About the Author
Eileen Goudge's writing career started nearly 25 years ago with the writing of free-lance articles for newspapers and magazines. At that time she was a recently divorced mother of one trying to scrape by on welfare checks and surplus cheese, yet she still managed to launch a lucrative career in teen romance. She worked on the "Sweet Valley High" series and later developed her own series called "Sweet Dreams."
In 1989, Eileen tried her hand at adult fiction. She received an amazing $900,000 advance for her first adult novel, Garden of Lies. The novel's story of deceit and destiny was a great success, reaching the number five spot on the New York Times Best Sellers list and selling more than 1,000,000 copies in hardcover and paperback. In 1992, she followed her successful debut with Such Devoted Sisters, which secured Ms. Goudge's position as a best-selling novelist. The year 1994 saw the publication of Eileen's third novel, Blessing in Disguise, a story which reflects her own struggles and triumphs with remarriage, step-parenting and family clashes. Trail of Secrets, a novel set in the blue-blood equestrian world and blue-collar beat of the New York City Mounted police, centers around three women and a dark, jealously guarded secret, and was published in 1996.
All of the above titles were main selections of the Literary Guild and Book-of-the-Month Club. There are more than 3,000,000 copies of her books in print in twenty-five countries around the world.
Recently, Ms. Goudge has completed her latest novel, the long-awaited sequel to Garden of Lies, entitled Thorns of Truth, due for release in April of 1998.
Eileen Goudge presently lives in an 1800s carriage house in historic Sniffen Court in New York City. She is married to television and radio correspondent Sandy Kenyon, and is the mother of two children, Mary and Michael.
---
Novels by Eileen Goudge
(Click on book cover for a synopsis of the book)

---
A Note from Eileen....
Thank you for visiting my home page. Feel free to drop me a note anytime, not only with your suggestions about this home page, but with your feelings or comments about any of my novels which you may have read.
Also, here are a few additional web sites which I have enjoyed, some of which proved helpful in the research for Trail of Secrets.

Chocolate
Equestrian
Homeopathy
New York City
Penguin Books
Romance Novels
---
EILEEN GOUDGE'S HOME PAGE is maintained and monitored by Sagal Computer Systems. E-mail comments or corrections to eileeng@interport.net
Copyright (c) 1998 Eileen Goudge.